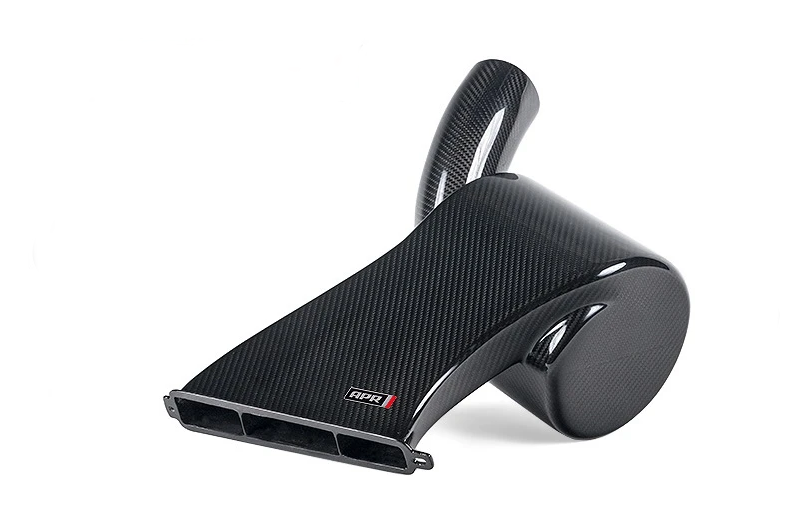 Genuine Parts

Guaranteed Authentic

Modification Specialists

Call for assistance

Mod Now, Pay Later

Financing Available

Save On Delivery

Free shipping on most orders over $199
APR MK7 VW Jetta Golf / GTI & 8V Audi A3 Carbon Fiber Intake System
Lease for as low as $/week
Learn More
customers are viewing this product
APR CARBON FIBER INTAKE SYSTEM The APR Carbon Fiber Intake System is an attractive high performance upgrade for the latest 1.8T and 2.0T engines as found in various MQB platform vehicles. The factory intake design has the foundation for excellent performance, but much of this is sacrificed in an effort to meet other design requirements. With requirements set forth for only supporting factory power output levels, low engine sound levels and long service intervals, there is plenty of room for improvement. The APR Carbon Fiber Intake System increases performance primarily by improving mass airflow through the system while still proving adequate filtration. Expect greater horsepower and torque through the power band with a more direct and responsive feel upon pressing the throttle. Sounds from the engine and turbocharger are enhanced and some may even experience better fuel economy depending on driving style.
RESEARCH AND DEVELOPMENT Uncommon to most in the market today, APR spared no expenses during the research and development period. For the better part of a year, APR's Mechanical Engineers created several prototype intake designs utilizing our in house Stereolithography 3D printer and other rapid prototyping techniques. Various filter mediums were tested in conjunction with the new intake designs through simulated models, flow bench analysis, dyno data collection and in real world applications all in an effort to derive the best possible solution.
ENGINEERING AND DESIGN INFORMATION To increase performance over the factory intake system, the intake system's ability to flow a higher mass of air is critical. In order to achieve this, APR's Mechanical Engineers focused on improving the pressure ratio between the inlet and outlet of the intake system, reducing turbulence, maximizing filter efficiency and keeping IAT as low as possible.
SPECIAL NOTE Vehicles with the secondary air injection require APR's Breather Hose Filter. This filer is sold separately and can be FOUND HERE on our website.
Returns Policy
Returns may be accepted within 14 days of purchase pending Return Merchandise Authorization (RMA). No returns or cancellations on special order items. All returns will be charged a 20% restocking fee, no exceptions.

To be eligible for a return, your item must be unused and in the same condition that you received it. It must also be in the original packaging. Item must be able to be resold as new. Several types of goods are exempt from being returned. Hazardous materials, fluids, greases, chemicals, and clothing are not able to return.
Free shipping is available within the lower 48 states for most orders totaling $199 or more. A free shipping option will be available during checkout. This offer is for delivery address in the continental United States and excludes shipments going to Alaska, Hawaii, Military Boxes, and items that require freight shipping.

Processing Time
Patterson Performance stocks a large quantity of items at any given time. Some items may require drop shipping from one of our various distributors. In stock items will ship within 1-2 business days. If you're needing your product quickly, please contact us to verify product availability before placing your order. Orders requiring additional verification (security concerns, incorrect information, etc.) may need additional processing time. Estimated shipping dates are not guaranteed and are subject to change based on inventory levels and manufacturer lead times. Backordered items are shipped immediately once available.
Items ship daily, If the item you ordered is not in stock, a member of our team will contact you via email / phone.
Patterson Performance will only ship to an address that varies from your billing address if payment is made via Paypal or a financing partner.

Patterson Performance ships from multiple warehouses throughout the United States, and sometimes from manufacturers overseas.
You can simply contact us via email / telephone for a live inventory check
P65 WARNING: Cancer and Reproductive Harm

Find more information at www.P65Warnings.ca.gov.