IE MQB VW MK7/MK7.5 GTI, Golf, & Audi A3 Performance Cast Catted Downpipe (FWD)
Lease for as low as $/week
Learn More
customers are viewing this product
Note: This product is frequently on backorder. Please contact us prior to purchasing to check availability and/or lead times. 


MQB FWD 2.0T DOWNPIPE FEATURES:
Proven performance gains for Stage 2 power levels
76mm (3 inch) tubing replaces restrictive 60mm factory tubing
Bolt on fitment - no hassle or poorly fitting parts when you choose IE
Constructed of 304 stainless long-lasting and high-quality material
Thick turbo flange - prevents leaks and warping
High flow 200 cell catalytic converter - full power with reduced pollution and smell
Metal matrix catalytic structure -
OEM style flex section - allows for more adjustment and won't fail
All inclusive kit - downpipe, midpipes, all hardware
TIG welded construction - equates to long-lasting welds that are less likely to fail
CONSUMER NOTICE: BY PURCHASING A MOTORSPORT/RACING PRODUCT ("PRODUCT"), YOU REPRESENT THAT YOU UNDERSTAND AND AGREE THAT: THE PRODUCT IS NOT DESIGNED TO MEET ANY APPLICABLE EMISSIONS STANDARDS, WHETHER IN THE USA OR OTHERWISE, THE PRODUCT IS NOT C.A.R.B. COMPLIANT, AND THAT THE PRODUCT IS NOT FOR SALE OR USE IN CALIFORNIA, USA NOR ANY OTHER JURISDICTION WHERE THE SALE OR USE IS PROHIBITED BY LAW. INTEGRATED ENGINEERING, LLC MAKES NO REPRESENTATIONS, WARRANTIES, OR CLAIMS THAT THIS PRODUCT COMPLIES WITH ANY APPLICABLE EMISSIONS LAWS AND EXPRESSLY DISCLAIMS ANY AND ALL SUCH REPRESENTATIONS, WARRANTIES, AND CLAIMS, WHETHER EXPRESS OR IMPLIED. BY PURCHASING THIS PRODUCT, YOU REPRESENT, WARRANT, AND AGREE THAT IT IS YOUR RESPONSIBILITY TO INFORM YOURSELF OF ANY LAWS OR REGULATIONS THAT MAY APPLY TO YOUR PURCHASE AND/OR USE OF THE PRODUCT.
When upgrading your VW MK7 or Audi 8V A3 to stage 2 software you will also need to reduce the back pressure caused by the small diameter stock pipe. With the exhaust system flowing better performance gains are achieved, sound is increased, and turbo lag is reduced. IE engineers guarantee a perfect fit by designing all IE downpipes in-house using the latest technology. Digital scanning is using to scan the entire environment which ensures that there is proper clearance and that all mounting points are in the correct location. Manufactured from 304 stainless steel offers a life-long product that brings performance and fun to the table for years to come.
Stage 2 ECU tuning is required, for the most power gains possible we also highly recommend an IE air intake and IE FDS intercooler.
An aggressive and drone-free sound will be emitted from the IE Cast Downpipe giving your car a true motorsport feel. Thick wall tubing and cast sections remove much of "tinny" sound and annoying exhaust drone emitted by cheaper, thin wall, downpipes. With downpipes, you get what you pay for in terms of sounds and overall manufacturing quality.
HIGH-FLOW CATALYTIC CONVERTER (CAT):
IE's MQB performance downpipe includes a high-flow 200 cell per inch metal matrix catalyst located as close to the turbo as possible. Metal matrix catalysts are higher performance because the matrix web is thinner, allowing higher flow in the same size. Our catalyst is also a very large diameter, allowing a large flow area and maximum power. By being placed close to the turbo, emissions and unwanted unpleasant smells are greatly reduced.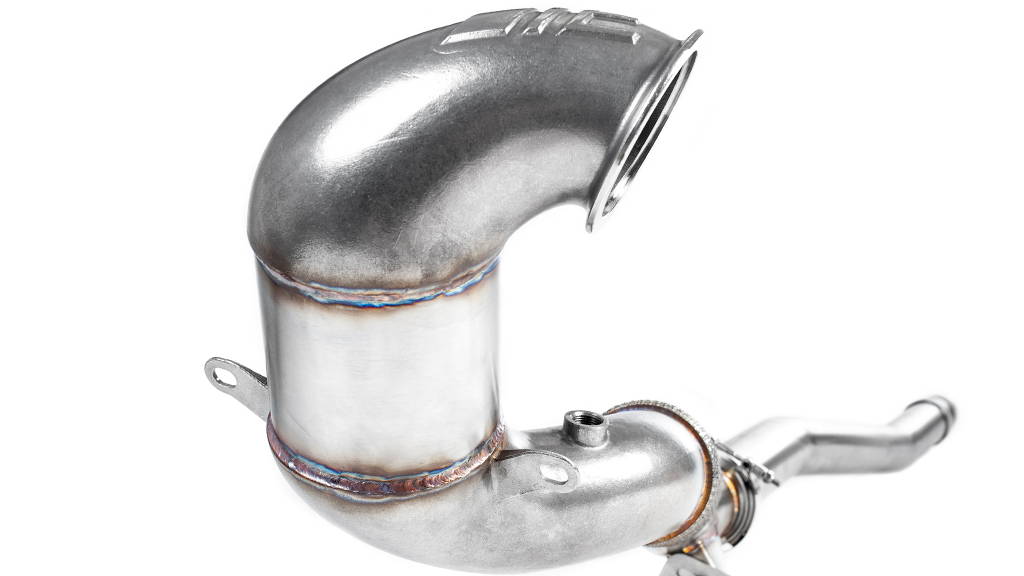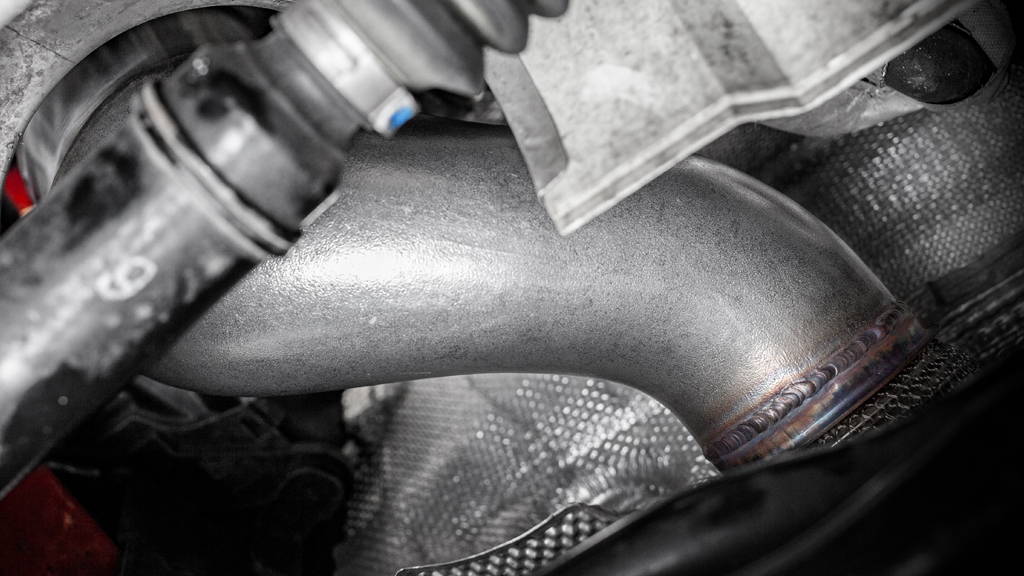 Typical aftermarket downpipes use bends or cuts to form the shape of the downpipe; this allows the use of larger piping, but sacrifices flow and often times fitment. Using specialized 3D scanners and software, IE engineers can design odd shapes and sizes to maximize flow and conform into tight spaces without any sacrifices. To accomplish these shapes, sections of the dowpipe are cast manufactured from the digital models. The result is an incredibly high-quality performance unit with a perfect fit and beautiful finish.
STOCK STYLE FLEX SECTION:
Often times the most common fail point of any aftermarket performance downpipe is the weak flex section designs. Chassis and engine movement coupled with the forces applied from aggressive track and racing environments puts a lot of stress on typical flex section designs that lead to exhaust leaks and eventually -completely failed and separated downpipes.

IE engineers have incorporated much higher-quality reinforced flex section designs used by many stock exhaust units in factory designs. These flex sections are manufactured to last reliably for countless miles of fun.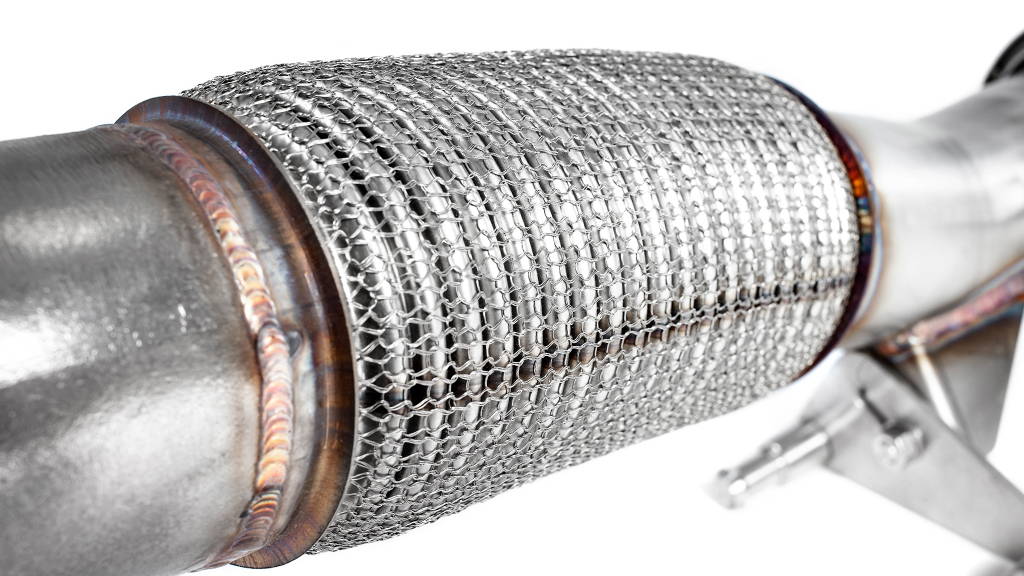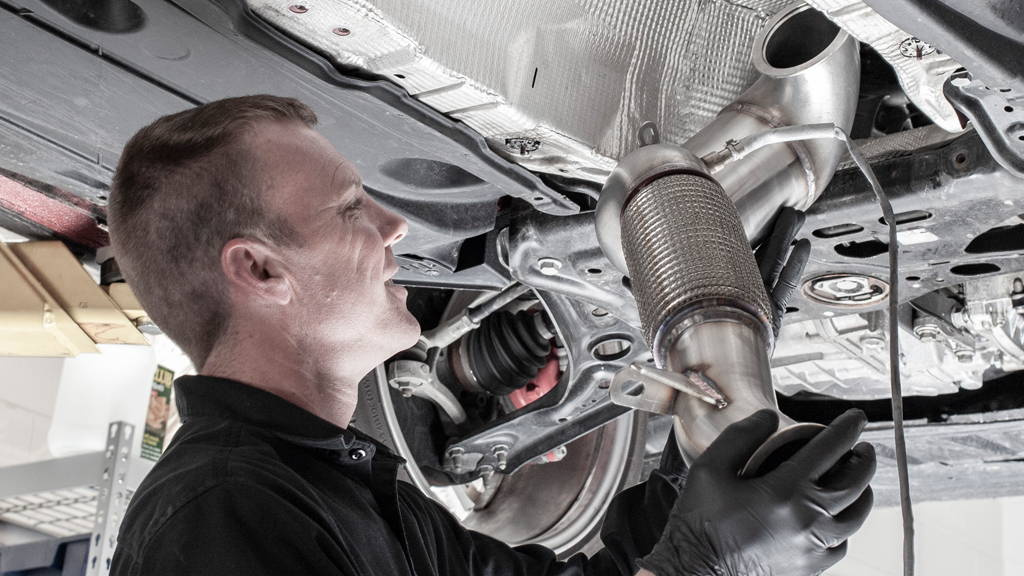 The IE downpipe replaces over 6 feet of restrictive factory exhaust tubing, all the way to the cat-back and muffler rear section. Sturdy fabricated mounts and precise engineering result in a rattle free and long last replacement exhaust system. 3D scanning systems were employed to ensure perfect placement both in pre and post-production phases.

Installation should be completed by a professional and preferably on an auto lift. CLICK HERE to view and download the install guide.
This downpipe system includes a mid pipe that is specially designed to fit Gen 3 1.8T and 2.0T engines in front-wheel drive (FWD) vehicles only. All-wheel drive (AWD) Quattro, or 4 Motion vehicles require a different mid pipe section included in our AWD MQB downpipe kit IE Part Number: IEEXCI1. Please verify if your vehicle is AWD or FWD before ordering.
Returns Policy
Returns may be accepted within 14 days of purchase pending Return Merchandise Authorization (RMA). No returns or cancellations on special order items. All returns will be charged a 20% restocking fee, no exceptions.

To be eligible for a return, your item must be unused and in the same condition that you received it. It must also be in the original packaging. Item must be able to be resold as new. Several types of goods are exempt from being returned. Hazardous materials, fluids, greases, chemicals, and clothing are not able to return.
Free shipping is available within the lower 48 states for most orders totaling $199 or more. A free shipping option will be available during checkout. This offer is for delivery address in the continental United States and excludes shipments going to Alaska, Hawaii, Military Boxes, and items that require freight shipping.

Processing Time
Patterson Performance stocks a large quantity of items at any given time. Some items may require drop shipping from one of our various distributors. In stock items will ship within 1-2 business days. If you're needing your product quickly, please contact us to verify product availability before placing your order. Orders requiring additional verification (security concerns, incorrect information, etc.) may need additional processing time. Estimated shipping dates are not guaranteed and are subject to change based on inventory levels and manufacturer lead times. Backordered items are shipped immediately once available.
Items ship daily, If the item you ordered is not in stock, a member of our team will contact you via email / phone.
Patterson Performance will only ship to an address that varies from your billing address if payment is made via Paypal or a financing partner.

Patterson Performance ships from multiple warehouses throughout the United States, and sometimes from manufacturers overseas.
You can simply contact us via email / telephone for a live inventory check
P65 WARNING: Cancer and Reproductive Harm

Find more information at www.P65Warnings.ca.gov.