Genuine Parts

Guaranteed Authentic

Modification Specialists

Call for assistance

Mod Now, Pay Later

Financing Available

Save On Delivery

Free shipping on most orders over $199
IE MK5 & MK6 2.0T 3" Catted Downpipe
Lease for as low as $/week
Learn More
customers are viewing this product
Note: This product is frequently on backorder. Please contact us prior to purchasing to check availability and/or lead times. 
MQB FWD 2.0T DOWNPIPE FEATURES

Massive power and torque gains with matching ECU tune

Allows for Stage 2 or K04 turbo ECU tunes

1.5mm thick 304 stainless steel pipe construction

16mm thick turbo flange - prevents warping and leaks

200 cell metal matrix CAT reduces emissions and smell without power loss

V-band mid-pipe connection for a leak free seal

Interlock core tough flex section allows engine movement without stress cracking

All installation hardware included -no unwanted trips to the parts store
Equipping your MK5 or MK6 2.0T engine with an IE catted downpipe delivers additional horsepower, torque, and responsiveness when coupled with a matching Stage 2 or K04 turbo upgrade ECU tune. These significant power gains are added through the entire RPM band by allowing the turbocharger to flow freely through the 3" downpipe, high-flow catalytic converter, and mid-pipe. Careful tuning of the added sound from freeing up exhaust flow rewards you with an aggressive exhaust growl every time you touch the accelerator while minimizing cabin drone.
All IE exhaust systems are designed in-house using state of the art digital scanning for a perfect fit and manufactured from 1.5mm thick wall 304 stainless steel offering a lifetime of performance and fun.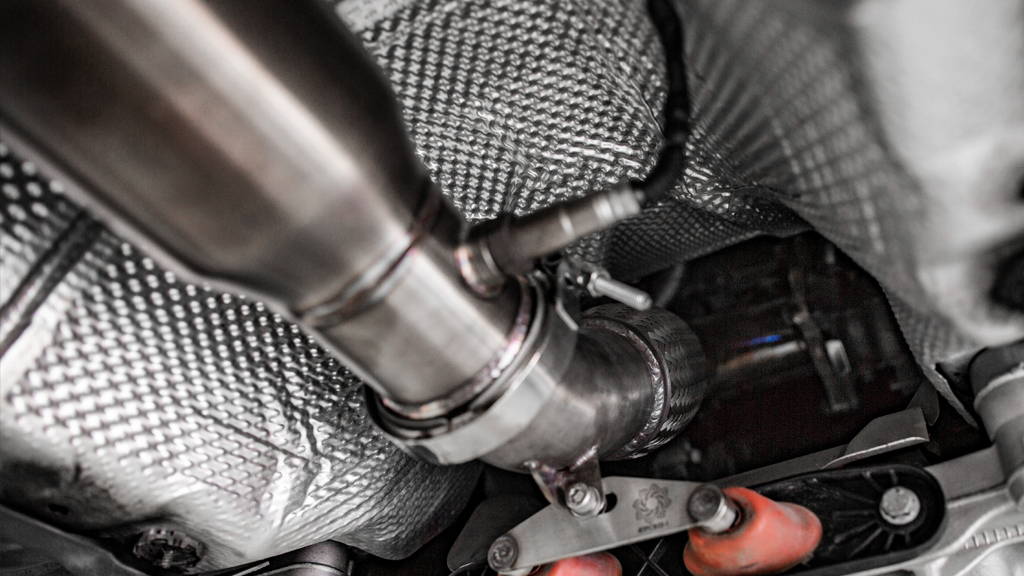 Give your car an aggressive motorsport sound that will keep you addicted to the throttle pedal without annoying exhaust drone. Engineered with thick-wall tubing and precise bends the downpipe opens up an unrestricted exhaust with a tuned sound without the "tinny" drone common on cheap catless downpipe options.
HIGH-FLOW CATALYTIC CONVERTER (CAT)
IE's performance downpipe for the MK5 & MK6 2.0T engines include a high-flow 200 cell per inch metal matrix catalyst (CAT) on the mid pipe section. This included CAT greatly reduces emissions output and unwanted offensive smells common on all catless systems, without losing horsepower! Have all the benefits of catless performance and none of the drawbacks with the IE high-flow CAT system.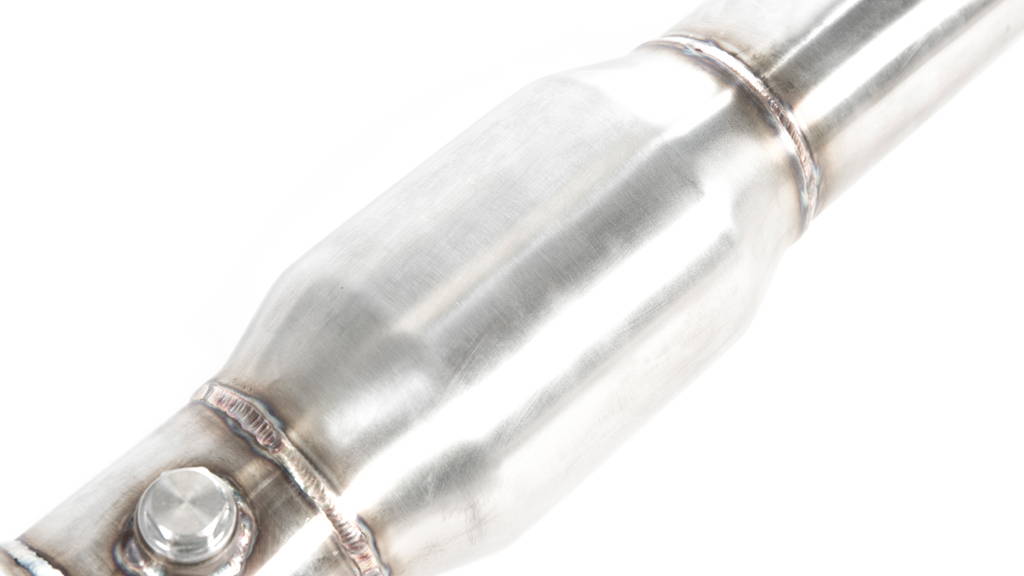 The IE downpipe replaces the majority of the factory exhaust from the turbocharger all the way back to the factory rear exhaust just before the axles. The 16mm turbo flange bolts to the stock or a K04 turbocharger. The downpipe section includes a new mount bracket and utilizes the factory mount points along with a tough interlock core flex section, this allows engine and chassis movement without stressing or cracking your downpipe. Easily connect the downpipe and catted mid-pipe using the simple and strong v-band connection. Finally, the mid pipe mounts to the stock rear exhaust with the included 3" to 60mm slip-fit sleeve, or easily adapt it to your cat-back exhaust of choice. In-house digitally scanned and designed for an exact fit and includes all hardware to make the install easy and straight forward.

Installation should be completed by a professional and preferably on an auto lift. CLICK HERE to view and download the install guide.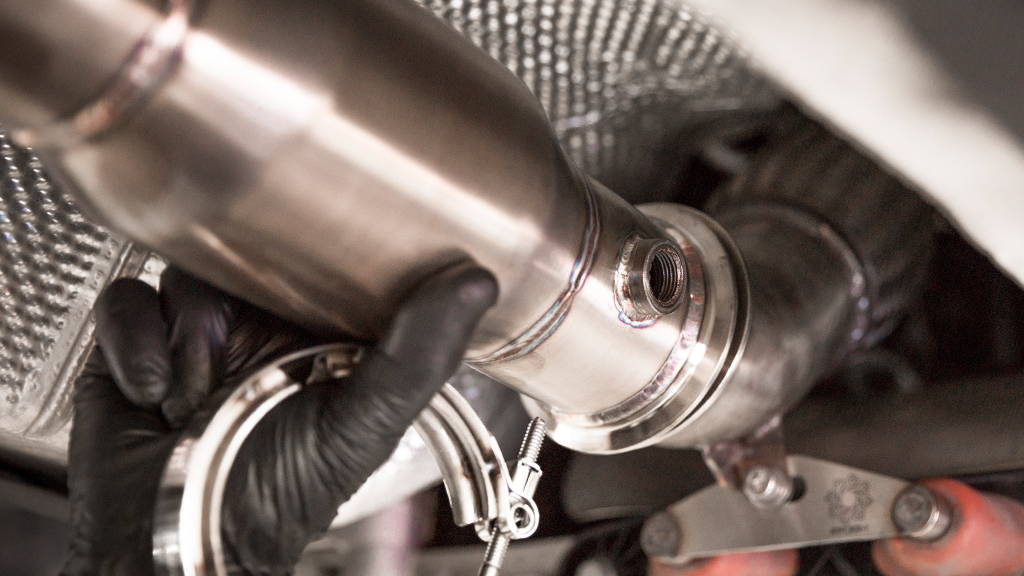 | | | | |
| --- | --- | --- | --- |
| MAKE | MODEL | YEAR | ENGINE |
| | | | |
| | | | |
| | | | |
| | | | |
| | | | 2.0T FSI & TSI (non Gen 3) |
Does NOT fit EA888 Gen 3 engines found in some late model (2013+) MK6 Jetta & GLI. Please verify engine type before purchasing.
CONSUMER NOTICE: BY PURCHASING A MOTORSPORT/RACING PRODUCT ("PRODUCT"), YOU REPRESENT THAT YOU UNDERSTAND AND AGREE THAT: THE PRODUCT IS NOT DESIGNED TO MEET ANY APPLICABLE EMISSIONS STANDARDS, WHETHER IN THE USA OR OTHERWISE, THE PRODUCT IS NOT C.A.R.B. COMPLIANT, AND THAT THE PRODUCT IS NOT FOR SALE OR USE IN CALIFORNIA, USA NOR ANY OTHER JURISDICTION WHERE THE SALE OR USE IS PROHIBITED BY LAW. INTEGRATED ENGINEERING, LLC MAKES NO REPRESENTATIONS, WARRANTIES, OR CLAIMS THAT THIS PRODUCT COMPLIES WITH ANY APPLICABLE EMISSIONS LAWS AND EXPRESSLY DISCLAIMS ANY AND ALL SUCH REPRESENTATIONS, WARRANTIES, AND CLAIMS, WHETHER EXPRESS OR IMPLIED. BY PURCHASING THIS PRODUCT, YOU REPRESENT, WARRANT, AND AGREE THAT IT IS YOUR RESPONSIBILITY TO INFORM YOURSELF OF ANY LAWS OR REGULATIONS THAT MAY APPLY TO YOUR PURCHASE AND/OR USE OF THE PRODUCT.
Returns Policy
Returns may be accepted within 14 days of purchase pending Return Merchandise Authorization (RMA). No returns or cancellations on special order items. All returns will be charged a 20% restocking fee, no exceptions.

To be eligible for a return, your item must be unused and in the same condition that you received it. It must also be in the original packaging. Item must be able to be resold as new. Several types of goods are exempt from being returned. Hazardous materials, fluids, greases, chemicals, and clothing are not able to return.
Free shipping is available within the lower 48 states for most orders totaling $199 or more. A free shipping option will be available during checkout. This offer is for delivery address in the continental United States and excludes shipments going to Alaska, Hawaii, Military Boxes, and items that require freight shipping.

Processing Time
Patterson Performance stocks a large quantity of items at any given time. Some items may require drop shipping from one of our various distributors. In stock items will ship within 1-2 business days. If you're needing your product quickly, please contact us to verify product availability before placing your order. Orders requiring additional verification (security concerns, incorrect information, etc.) may need additional processing time. Estimated shipping dates are not guaranteed and are subject to change based on inventory levels and manufacturer lead times. Backordered items are shipped immediately once available.
Items ship daily, If the item you ordered is not in stock, a member of our team will contact you via email / phone.
Patterson Performance will only ship to an address that varies from your billing address if payment is made via Paypal or a financing partner.

Patterson Performance ships from multiple warehouses throughout the United States, and sometimes from manufacturers overseas.
You can simply contact us via email / telephone for a live inventory check
P65 WARNING: Cancer and Reproductive Harm

Find more information at www.P65Warnings.ca.gov.