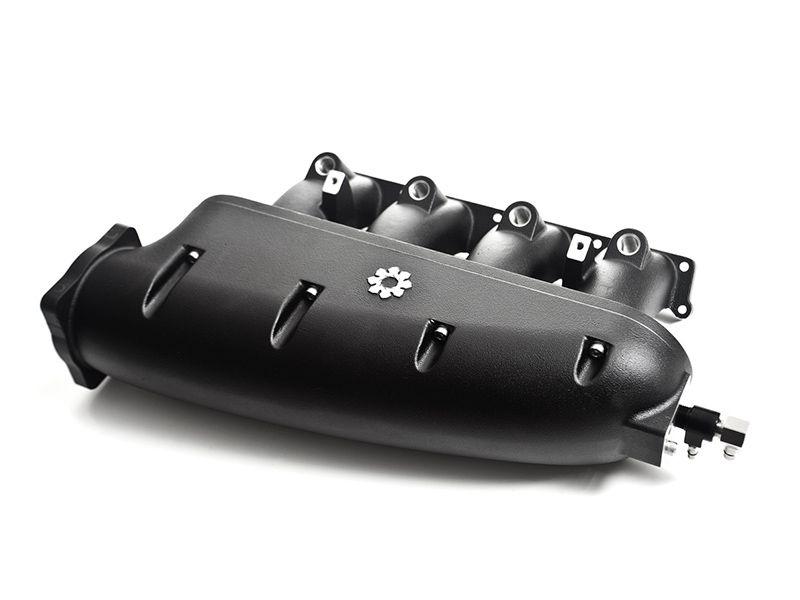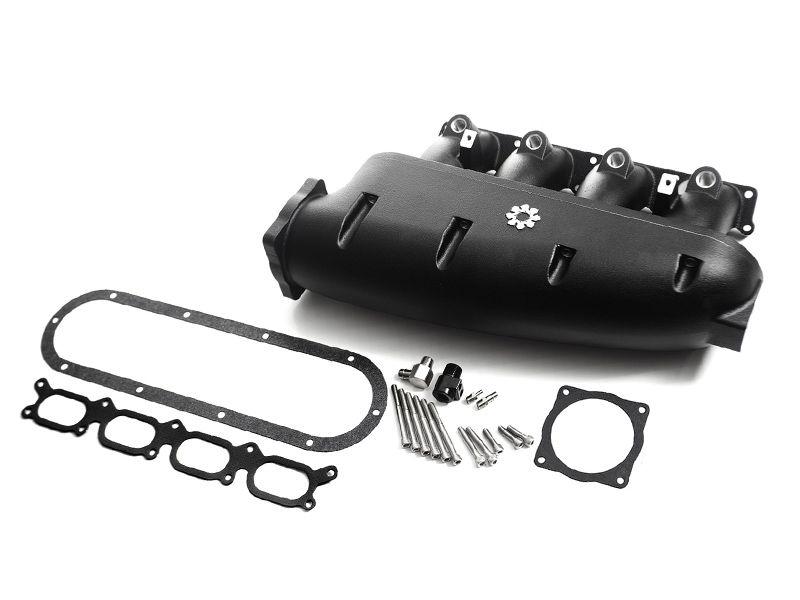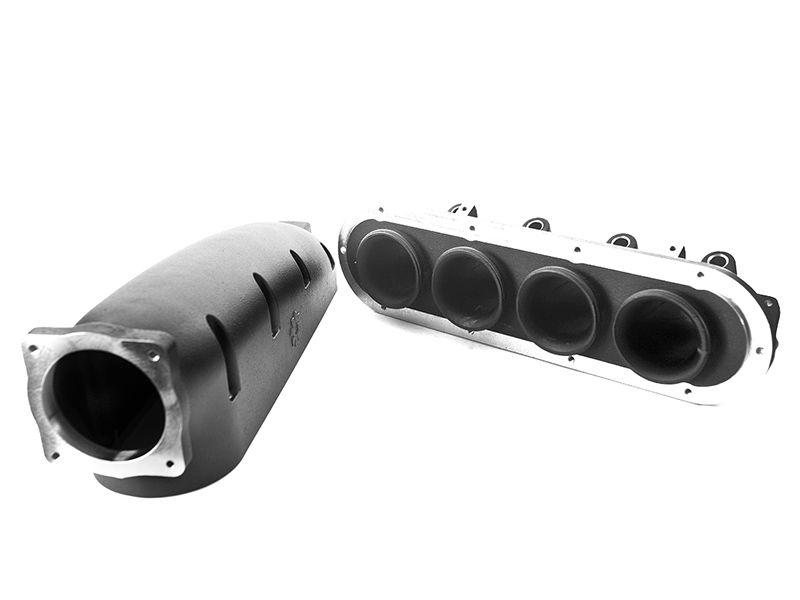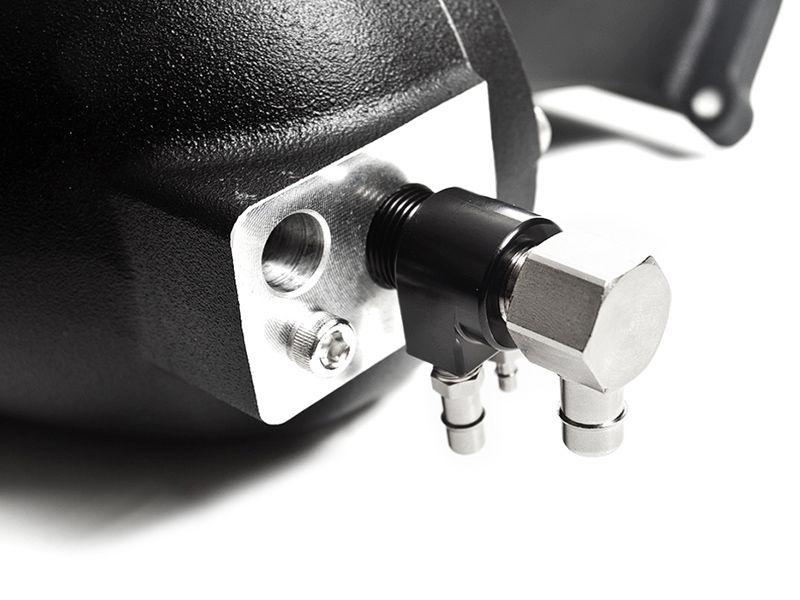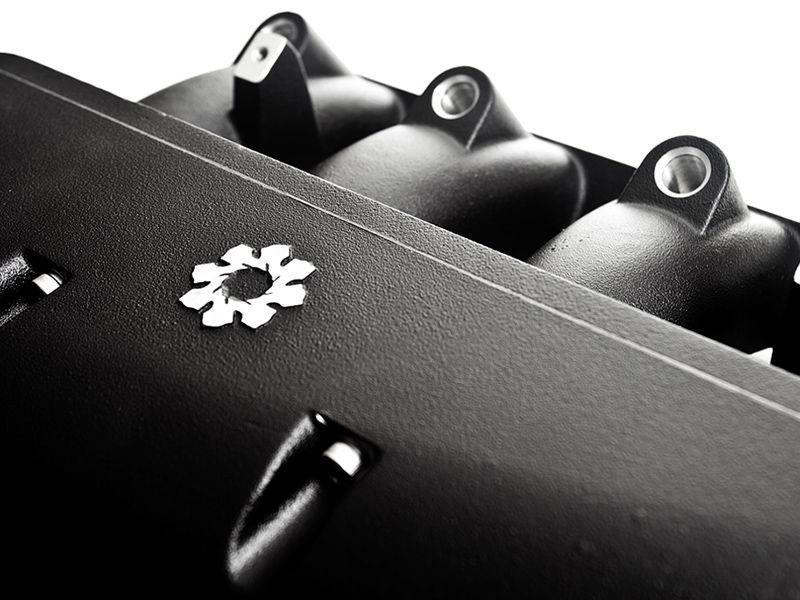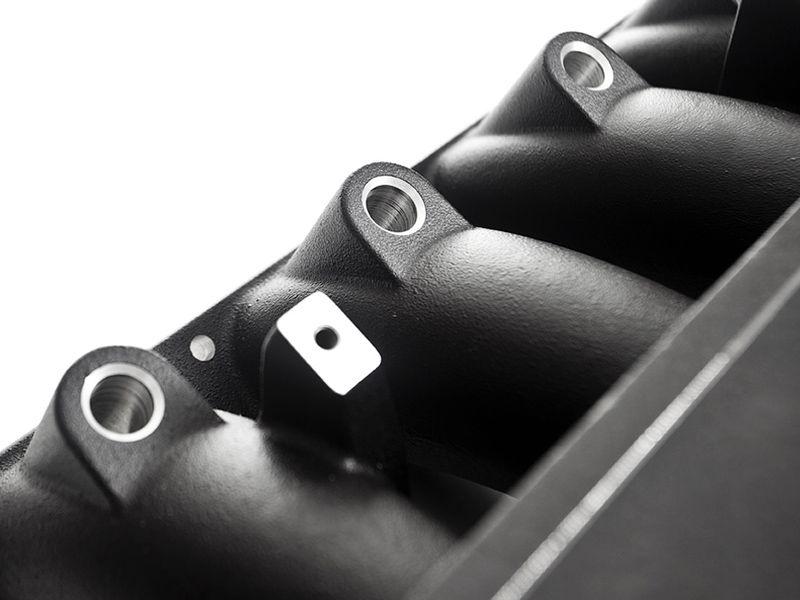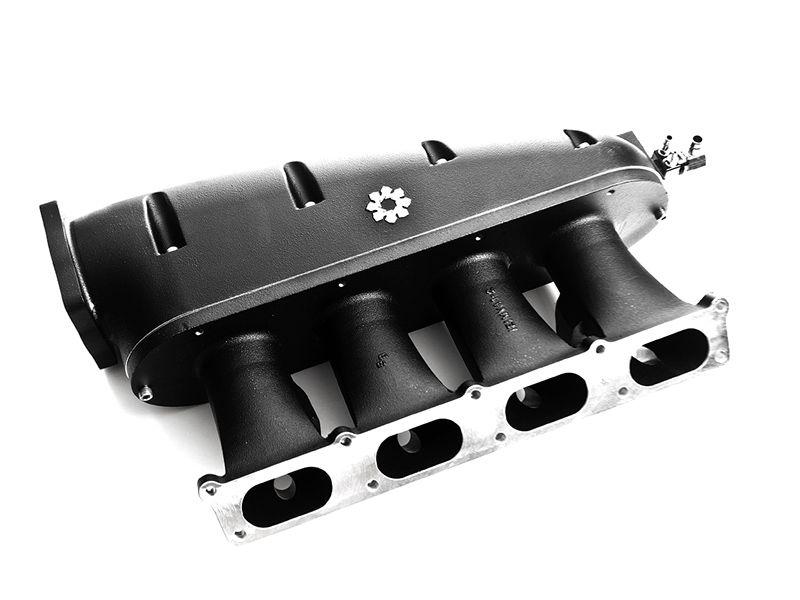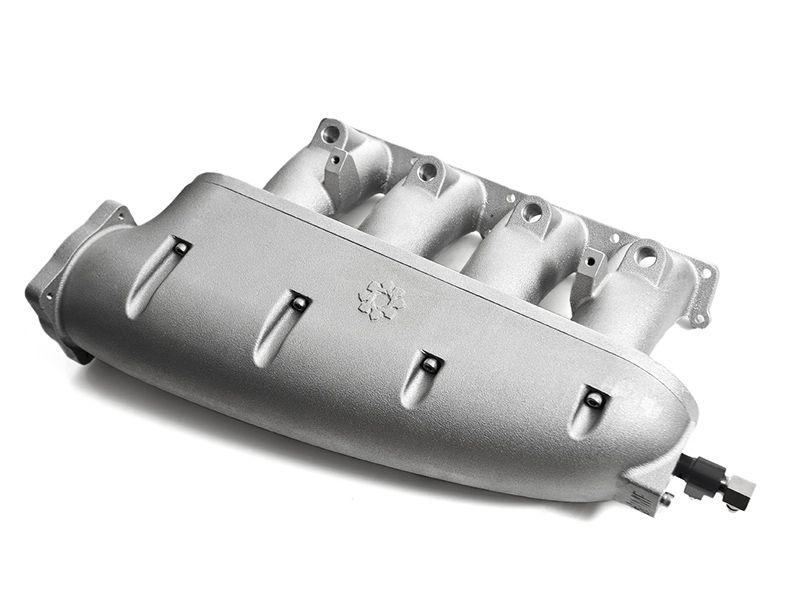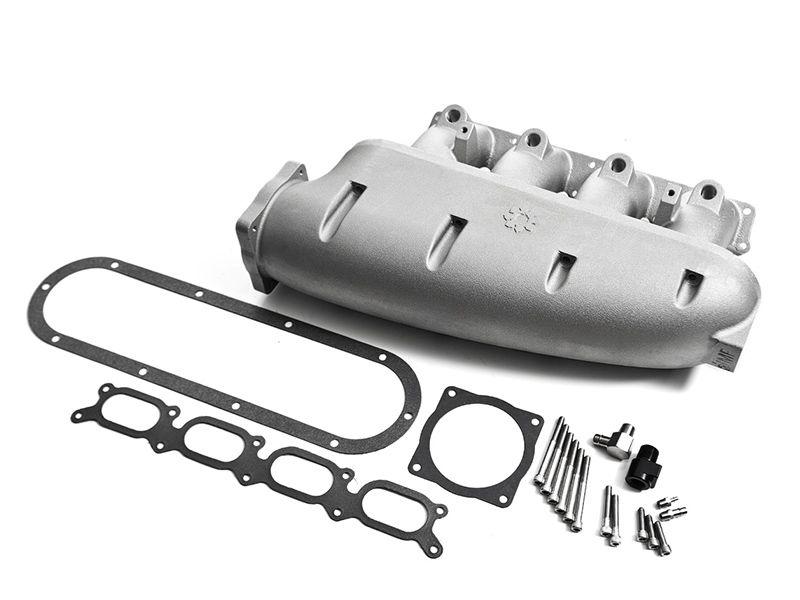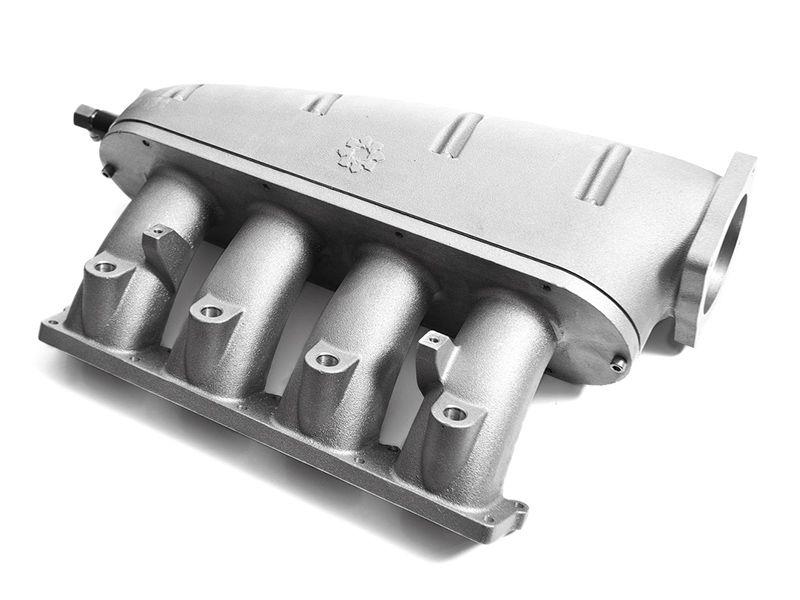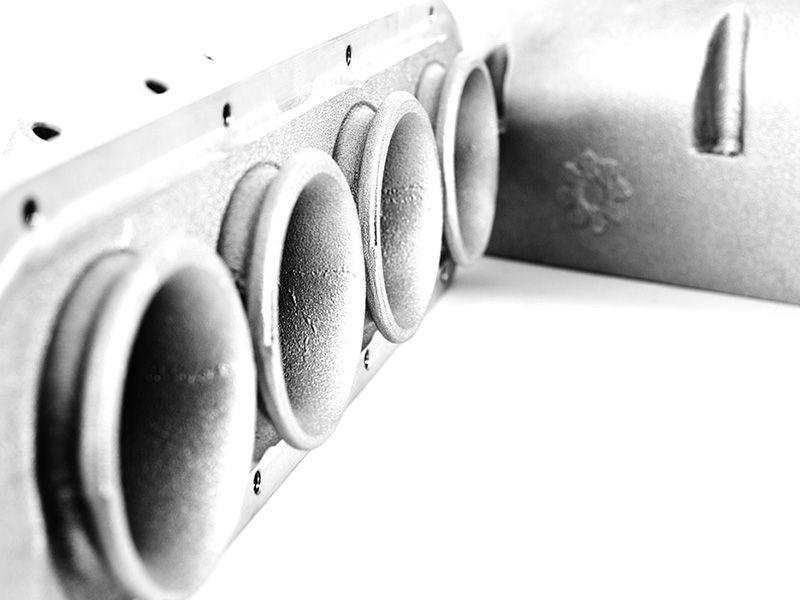 Genuine Parts

Guaranteed Authentic

Modification Specialists

Call for assistance

Mod Now, Pay Later

Financing Available

Save On Delivery

Free shipping on most orders over $199
IE 1.8T Transverse Intake Manifold
Lease for as low as $/week
Learn More
customers are viewing this product
UPGRADE YOUR MANIFOLD FOR ULTIMATE FLOW
Gain market leading power and torque across the entire rpm range with the only true motorsport designed intake manifold available for your transverse 1.8T 20V engine.
INTAKE MANIFOLD BENEFITS
Your factory intake manifold is designed to channel air into the engine just well enough to meet stock horsepower levels, leaving room for significant improvement on performance builds utilizing larger than stock turbochargers. IE's 1.8T 20V intake manifold has been designed as a true performance design with major motorsport features. Optimized tuning of the intake manifold runner lengths, diameters, and bellmouths work together to ram more air into the cylinders. The plenum and runners are optimized with computer software for maximum flow. This very specialized design work results in a market leading intake manifold design capable of over 90HP gains!
POWER INCREASE
Obsessively engineered and dyno tested, this intake manifold delivers the best power results possible in any condition. Due to the unique plenum, velocity stack, and runner design all setups with GT28 or larger turbos will see gains throughout the mid-high RPM range with very little low-end power sacrifice.
EASY THROTTLE BODY PLACEMENT
Our intake manifold allows the throttle body to be installed on either side of the engine bay due to the modular plenum design. The entire plenum disconnects from the runners and can be flipped in either direction allowing you to install the manifold with only minor changes on virtually any turbo setup.
VELOCITY STACK BELLMOUTH RUNNERS
Specialized engineering software was used to research and develop a truly optimized runner and velocity stack design. Aggressively-sized resonance tuned manifold runners and flow tested velocity stacks deliver more air to the cylinder than any other manifold on the market.
REDUCED TURBOCHARGER LAG
The IE manifold provides an optimal balance of power gains while minimizing the loss in spool time and low-end power. Depending on the engine and turbo setup, the manifold will typically result in very little added turbo lag when compared to other manifolds with similar sized runners and plenum.
DESIGNED, CAST, AND MACHINED IN USA
IE manifolds are cast from a special self-aging, self-hardening alloy with especially strict requirements for chemical composition. Top of the line Japanese machining centers machine all major surfaces of the parts in one setup, ensuring a perfect fit, finish, and a lifetime of service.
IE MICRO VACUUM MANIFOLD
This manifold includes the IE micro vacuum manifold at no extra charge. This small anodized fitting provides all of the vacuum sources needed without the worry of cluttered lines. Installs fast and easy, providing a sleek and clean solution to plumb your blow-off/diverter valve, boost gauge, fuel pressure regulator, brake booster, or anything else requiring a vacuum source.
PERFORMANCE CHARTS
Dyno Results +90HP Gain!
Tested on a 2.0L stroker engine, large port, PTE 5858 Turbocharger
Air Flow Result Chart
VEHICLE FITMENT
Audi - TT 2000-2006 (MK1 - 8N) 1.8T 20V*
Audi - A3 1996-2003 (MK1 - 8L) 1.8T 20V*
Audi - S3 1996-2003 (MK1 - 8L) 1.8T 20V*
VW - Golf 1999-2005 (MK4) 1.8T 20V
VW - GTI 1999-2005 (MK4) 1.8T 20V
VW - Jetta & Jetta GLI 1999-2005 (MK4)1.8T 20V
VW - Beetle 1998-2011 (1C - 9C - 1Y) 1.8T 20V*
*Fitment may require modification to engine bay components. Due to limited space, windshield washer fluid reservoir relocation and custom intercooler piping may need to be fabricated.
REQUIRED HARDWARE
The manifold is designed for large port and small port cylinder heads. When installing onto a small port cylinder head, we recommend the use of an IE phenolic large port to small port adapter kit. IE part number: IEBAVA16
FAQ
What is the benefit of a modular plenum?
The two-piece manifold can be easily flipped to put throttle flange on either side, easily adaptable to any big turbo setup.

What kind of power gains will I see?
Power increases are seen in mid-high rpm ranges, depending on turbo setup and displacement.

What else will I need to install?
Intake manifold now includes our micro vacuum manifold to provide connections for all needed accessories. We also offer a full sized stealth vacuum manifold with more ports if needed for your setup. If using our intake manifold on a small port head, we offer a phenolic transition spacer, which makes the connection between the two without any flow-reducing "steps."

Will I need tuning for this manifold?
For maximum performance, tuning is recommended. However, if the factory throttle body is used, it is not absolutely necessary. If upgrading to a larger throttle body, tuning is a must.

How does the IE intake manifold compare to others on the market?
Our intake manifold shows the best gains in the mid-high rpm range when compared to any of the competing manifolds. By utilizing our micro vacuum manifold, there are no ugly vacuum ports visible on the top of the manifold, regardless of the plenum orientation. We believe this makes our manifold the most visual appealing piece on the market as well as the first manifold available with the modular plenum design. This makes it versatile, as it can be installed with any intercooler piping/throttle body setup.

I see that the intake manifold is large-port only. Can I use this on my small port 1.8T head?
Absolutely! You can easily install our manifold on your small port head with use of the IEBAVA16 phenolic transition spacer.

Is it necessary to upgrade my fuel rail to install this manifold?
Our manifold was designed to work with the factory fuel rail, without modification required. We do offer a high-flow billet fuel rail for higher horsepower applications, which is also visually desirable.

I see that you offer the manifold in raw and black powder-coat finish. Is there a benefit to the black finish?
The black powder-coat finish is not only visually appealing, but it is much easier to keep clean. Raw cast aluminum parts easily collect dirt that is difficult to remove. The powder-coat finish does not show dirt easily and can be easily cleaned.

How do I know if my cylinder head is a small port or large port?
The cylinder heads are stamped with the three-letter engine code on the front corner, near the #1 cylinder. Only the AEB and AGU engine codes are the large port heads, all other codes are small port and require the IEBAVA16 phenolic transition spacer to be used.
Returns Policy
Returns may be accepted within 14 days of purchase pending Return Merchandise Authorization (RMA). No returns or cancellations on special order items. All returns will be charged a 20% restocking fee, no exceptions.

To be eligible for a return, your item must be unused and in the same condition that you received it. It must also be in the original packaging. Item must be able to be resold as new. Several types of goods are exempt from being returned. Hazardous materials, fluids, greases, chemicals, and clothing are not able to return.
Free shipping is available within the lower 48 states for most orders totaling $199 or more. A free shipping option will be available during checkout. This offer is for delivery address in the continental United States and excludes shipments going to Alaska, Hawaii, Military Boxes, and items that require freight shipping.

Processing Time
Patterson Performance stocks a large quantity of items at any given time. Some items may require drop shipping from one of our various distributors. In stock items will ship within 1-2 business days. If you're needing your product quickly, please contact us to verify product availability before placing your order. Orders requiring additional verification (security concerns, incorrect information, etc.) may need additional processing time. Estimated shipping dates are not guaranteed and are subject to change based on inventory levels and manufacturer lead times. Backordered items are shipped immediately once available.
Items ship daily, If the item you ordered is not in stock, a member of our team will contact you via email / phone.
Patterson Performance will only ship to an address that varies from your billing address if payment is made via Paypal or a financing partner.

Patterson Performance ships from multiple warehouses throughout the United States, and sometimes from manufacturers overseas.
You can simply contact us via email / telephone for a live inventory check
P65 WARNING: Cancer and Reproductive Harm

Find more information at www.P65Warnings.ca.gov.