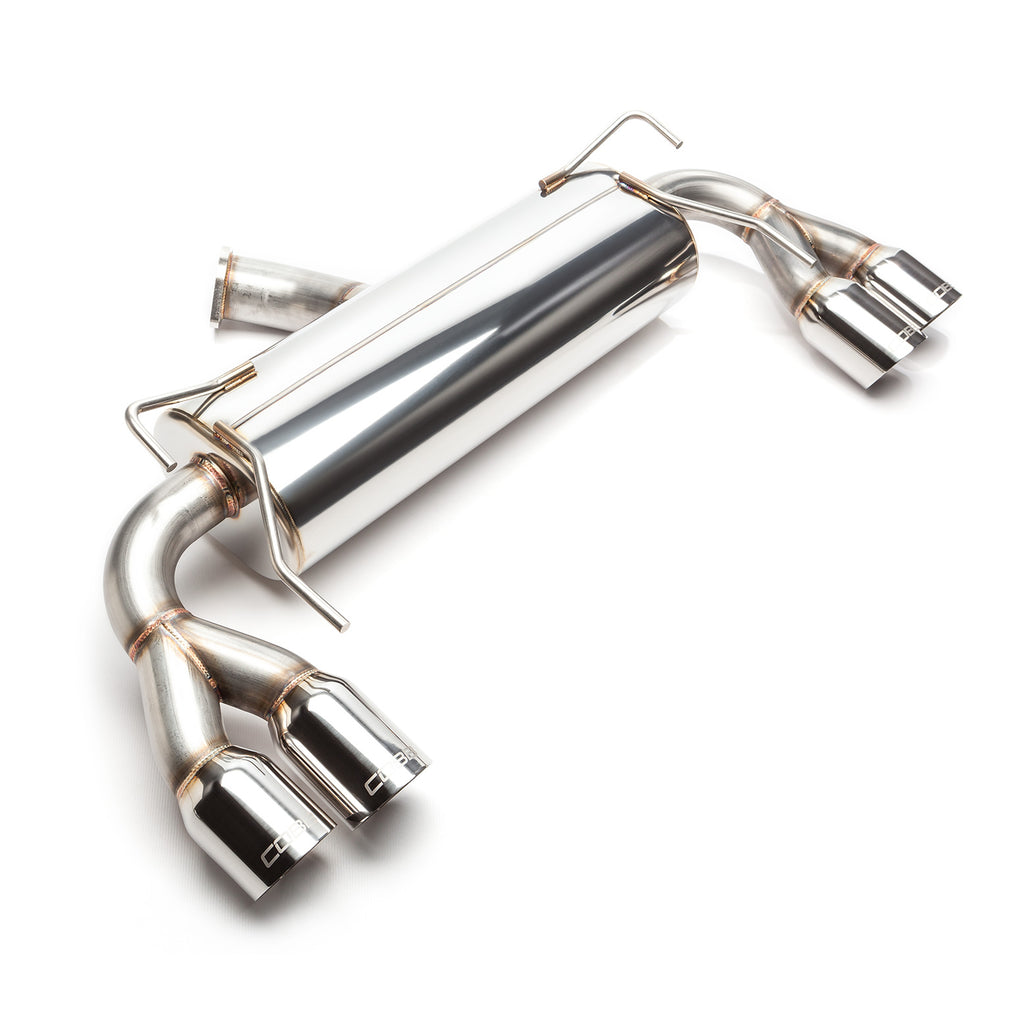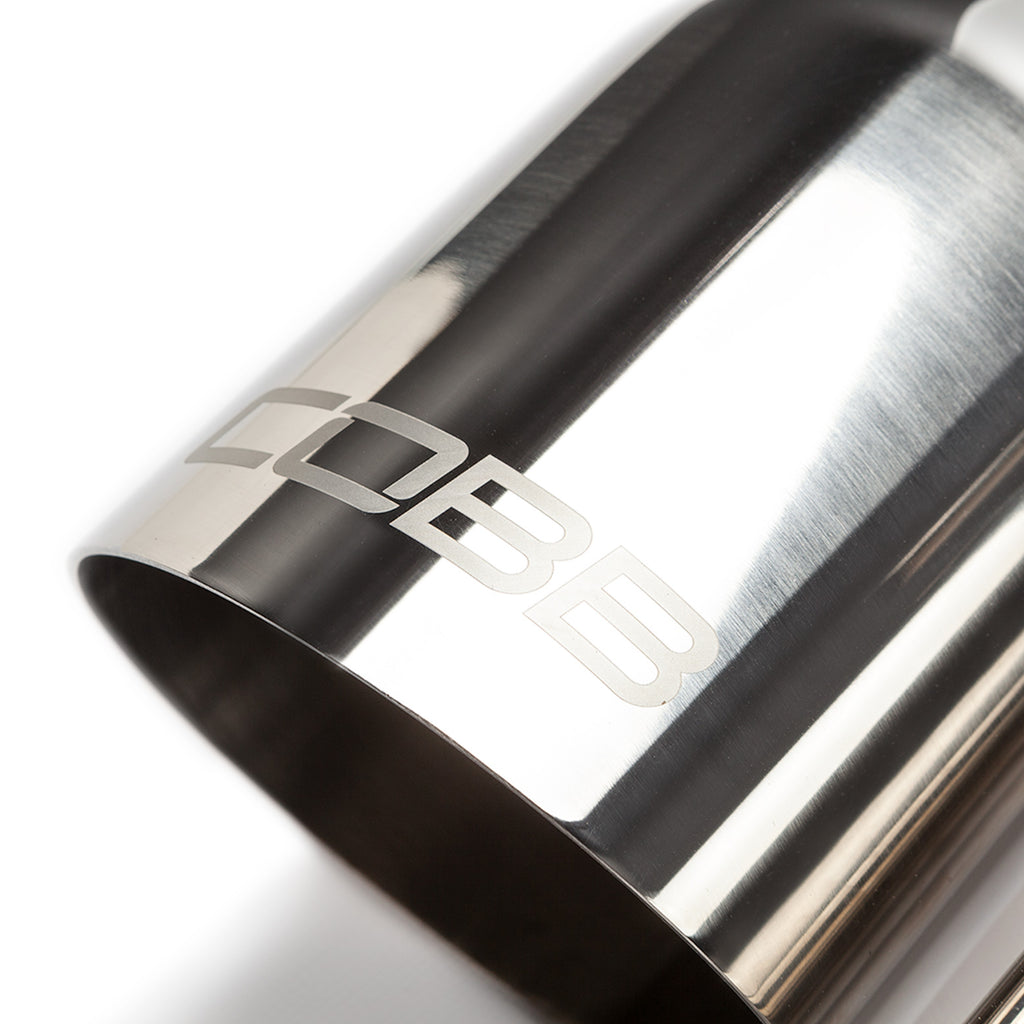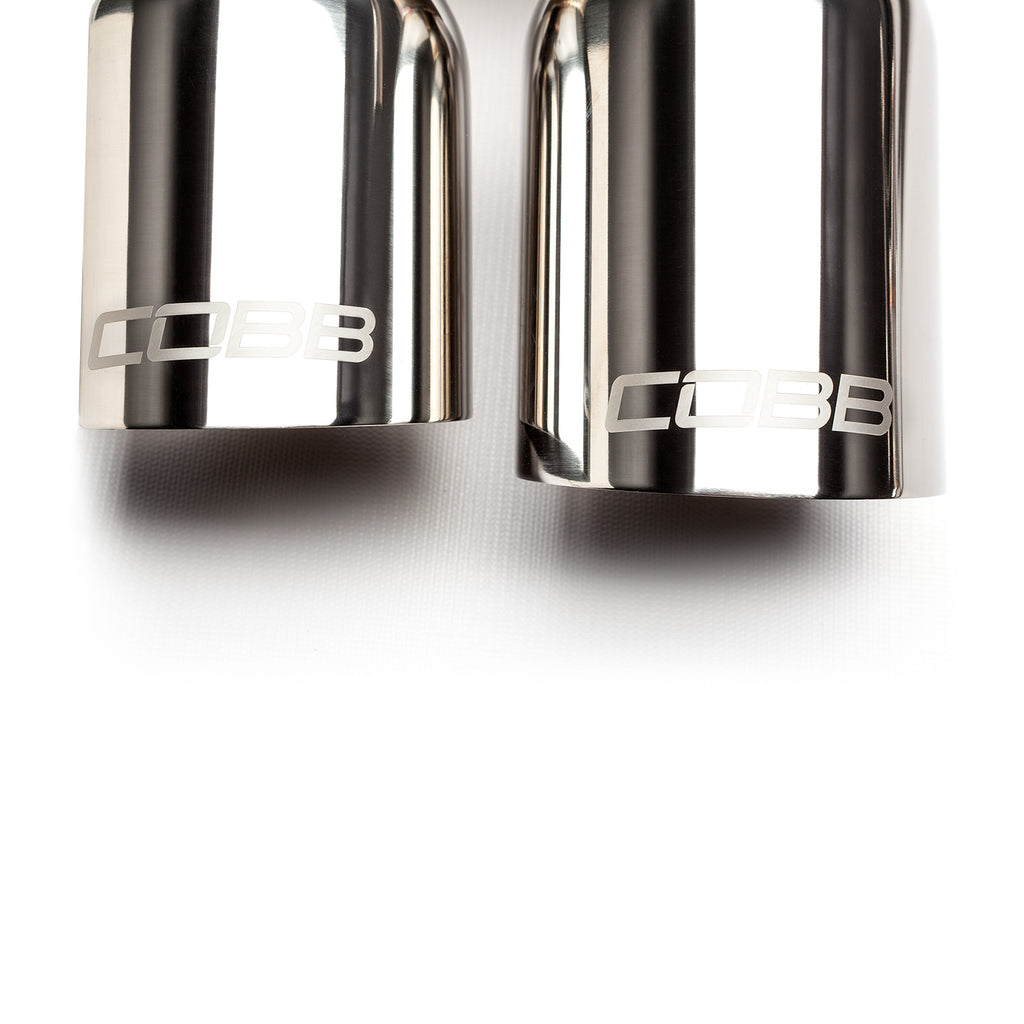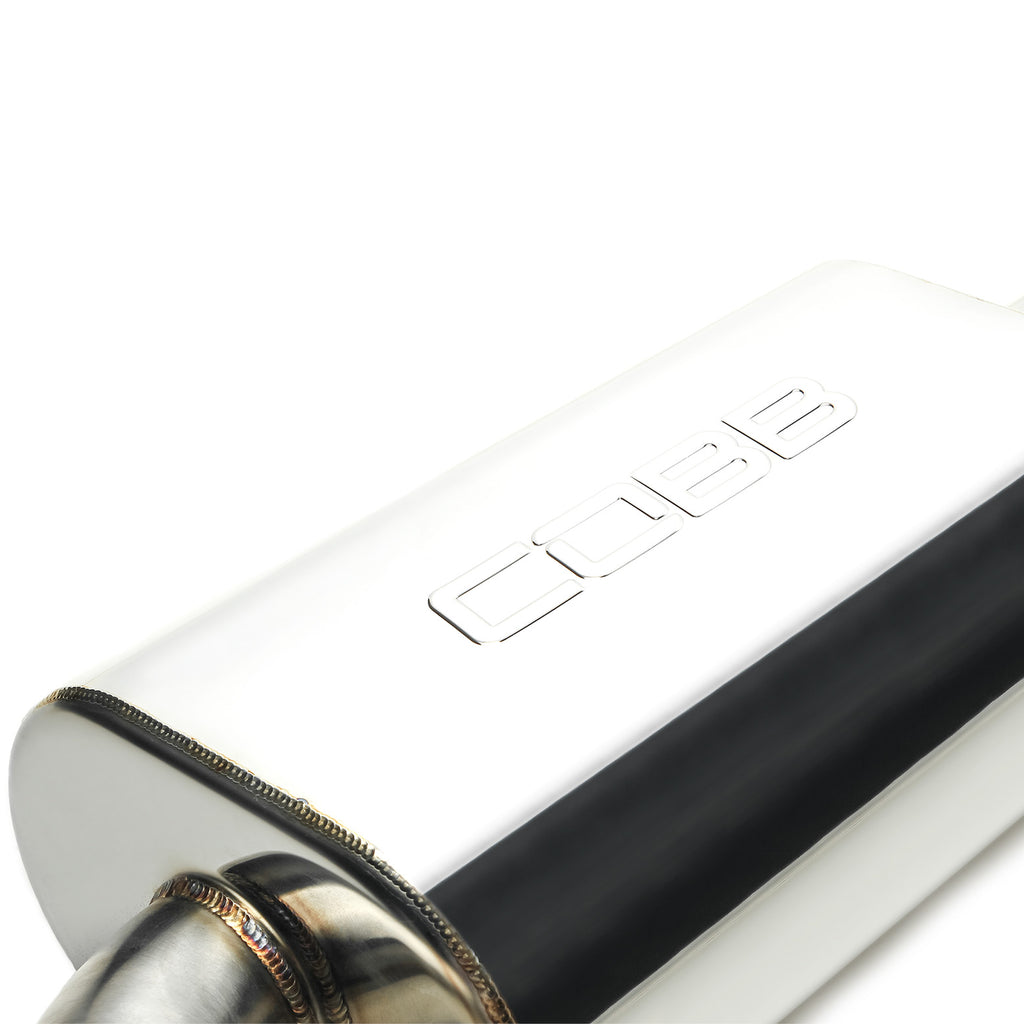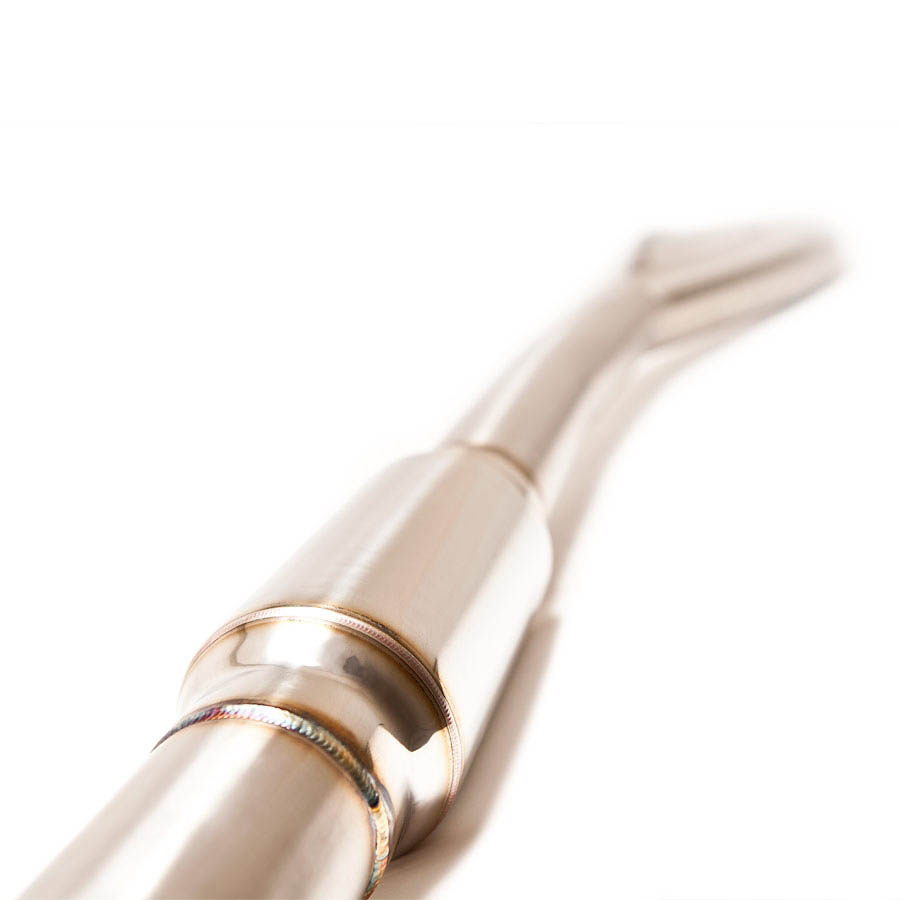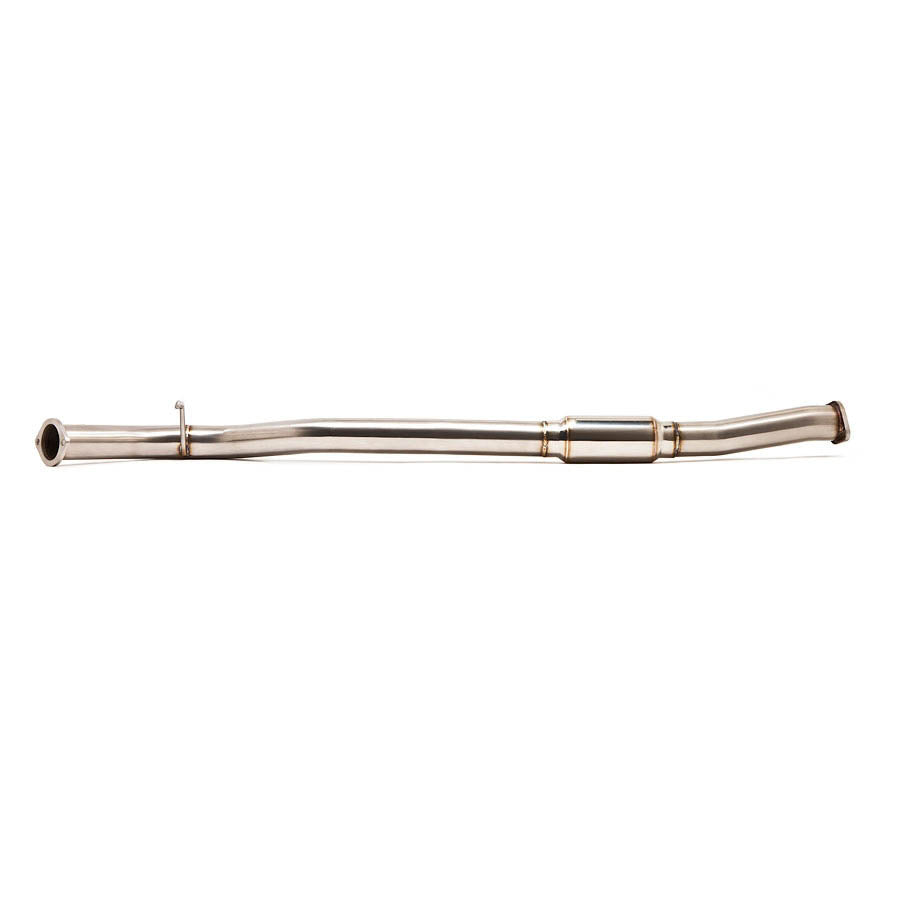 Genuine Parts

Guaranteed Authentic

Modification Specialists

Call for assistance

Mod Now, Pay Later

Financing Available

Save On Delivery

Free shipping on most orders over $199
Cobb 3" Catback Exhaust - Subaru WRX Hatch 2011-2014 / STi Hatch 2008-2014
Out of stock
Many in stock
Lease for as low as $/week
Learn More
customers are viewing this product
Exhaust gasses are guided through 3-inch diameter tubing into the center inlet of the fully-24-inch wide muffler section. Internal to the muffler, the exhaust gasses pass through a reversed Y merge, efficiently splitting the exhaust into separate muffling chambers on each side of the canister. 2.5-inch outlets emerge symmetrically from each side of the canister and direct the exhaust out the rear through quad polished exhaust tips. This straight-through exhaust design is much more effective at reducing exhaust back-pressure as can be seen in the illustrations below: 304 stainless steel is used throughout the exhaust construction. All components are meticulously TIG welded for outstanding appearance and strength. Four custom exhaust tips fill the factory bumper cut-outs perfectly, protruding just enough to show off the COBB logos etched into the top of each polished tip. Perfect fitment is achieved with either the Subaru factory downpipe or the COBB 3" SS Downpipe. The COBB 3" SS Cat-back Exhaust for the 2008-2014 Subaru STI Hatch and 2011-2014 WRX Hatch is a triumph in design and execution. Install the COBB 3" SS Cat-back Exhaust on your STI or WRX and experience performance like no other.
---
WHY?
Introducing the COBB 3" Stainless Steel Cat-back Exhaust for the 2008-2014 Subaru STI Hatch and 2011-2014 WRX Hatch. This much anticipated exhaust uses a unique straight-through muffler section rather than common chambered designs, which minimizes tubing bends, reduces back-pressure and keeps sound output below SAE standards. The outstanding craftsmanship and attention to detail are evident in every aspect of this cat-back.
---
FEATURES
Subaru SS 3" Cat-Back Exhaust WRX Hatch 2011-2014, STI Hatch 2008-2014
Straight-through Optimum Flow Design
304 Stainless Steel Construction
Quad Polished Tips
TIG Welded Direct Replacement for OEM
Fits COBB 3" SS or Stock Downpipe
Returns Policy
Returns may be accepted within 14 days of purchase pending Return Merchandise Authorization (RMA). No returns or cancellations on special order items. All returns will be charged a 20% restocking fee, no exceptions.

To be eligible for a return, your item must be unused and in the same condition that you received it. It must also be in the original packaging. Item must be able to be resold as new. Several types of goods are exempt from being returned. Hazardous materials, fluids, greases, chemicals, and clothing are not able to return.
Free shipping is available within the lower 48 states for most orders totaling $199 or more. A free shipping option will be available during checkout. This offer is for delivery address in the continental United States and excludes shipments going to Alaska, Hawaii, Military Boxes, and items that require freight shipping.

Processing Time
Patterson Performance stocks a large quantity of items at any given time. Some items may require drop shipping from one of our various distributors. In stock items will ship within 1-2 business days. If you're needing your product quickly, please contact us to verify product availability before placing your order. Orders requiring additional verification (security concerns, incorrect information, etc.) may need additional processing time. Estimated shipping dates are not guaranteed and are subject to change based on inventory levels and manufacturer lead times. Backordered items are shipped immediately once available.
Items ship daily, If the item you ordered is not in stock, a member of our team will contact you via email / phone.
Patterson Performance will only ship to an address that varies from your billing address if payment is made via Paypal or a financing partner.

Patterson Performance ships from multiple warehouses throughout the United States, and sometimes from manufacturers overseas.
You can simply contact us via email / telephone for a live inventory check
P65 WARNING: Cancer and Reproductive Harm

Find more information at www.P65Warnings.ca.gov.