Genuine Parts

Guaranteed Authentic

Modification Specialists

Call for assistance

Mod Now, Pay Later

Financing Available

Save On Delivery

Free shipping on most orders over $199
Cobb Air Oil Separator - WRX 2008-2014 / STi 2008-2021
Out of stock
Many in stock
Lease for as low as $/week
Learn More
customers are viewing this product
---
DESCRIPTION
The COBB Air/Oil Separator is placed within your Subarus crankcase ventilation system and helps to prevent oil vapors from being introduced into the intake system. The COBB Air Oil Separator has been developed in partnership with IAG Performance and offers exclusive features.


1 Liter Holding Capacity
Integrated ORB Ports
Compact Cast Aluminum Body w/ Black Powdercoat Finish
Heat Shielding on Crankcase Breather and Oil Return Lines
Coolant Bleeder Valve
Bespoke COBB Color Combination
Laser Etched COBB Logo
The Subaru EJ engine has 3 ports that vent crank pressure: one on each cylinder head and another on the top of the block. Each engine vent port receives its own connection to the AOS. By giving each engine port its own entrance to the AOS we have allowed for more effective and faster excavation of crankcase pressure. Additionally, this reduces overall system pressure. With a 4" OD and 5.75" height, the AOS has an approximate 1 liter of holding capacity. The larger the AOS, the more power you can safely make without having to worry about the AOS overfilling.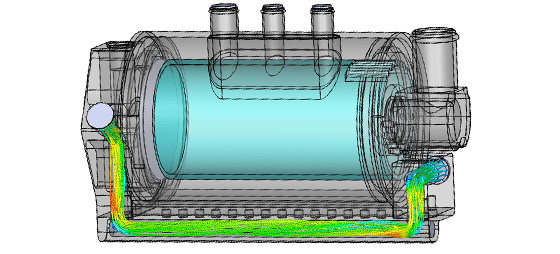 The bottom of the AOS is shaped like a snail, redirecting positive crank pressure into the same swirl pattern produced by the 3 side ports. Allowing maximum oil drainage while separating oil from the air in all the venting ports.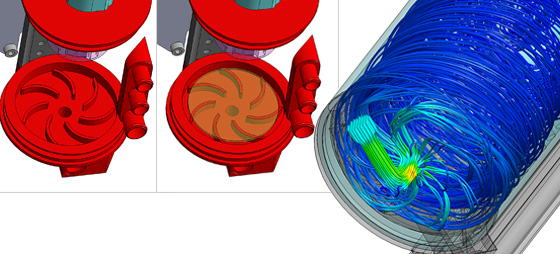 The back plate of the AOS features a unique coolant routing system that heats the entire AOS to the same temperature of the engine. This maximizes the evaporation of any water collecting inside of the can. The hotter the AOS, the less water will collect inside and mix with the oil.
---
WHY?
The COBB Subaru Air/Oil Separator helps to prevent crankcase oil vapors from recirculating back through your engine's intake system.

Oil vapors passing through your engine's intake system lower the effective octane rating of fuel and can contribute to both oil and carbon buildup over time.
---
FEATURES
Subaru Air/Oil Separator FXT 2009-2013, LGT/OBXT 2005-2009, WRX 2008-2014, STI 2008-2021
Compact Cast Aluminum Tank Design
Bespoke COBB Anodizing on Caps
Wrinkle Black Powder Coated Canister
Laser Etched COBB Logo
Developed in Partnership with IAG Performance
Returns Policy
Returns may be accepted within 14 days of purchase pending Return Merchandise Authorization (RMA). No returns or cancellations on special order items. All returns will be charged a 20% restocking fee, no exceptions.

To be eligible for a return, your item must be unused and in the same condition that you received it. It must also be in the original packaging. Item must be able to be resold as new. Several types of goods are exempt from being returned. Hazardous materials, fluids, greases, chemicals, and clothing are not able to return.
Free shipping is available within the lower 48 states for most orders totaling $199 or more. A free shipping option will be available during checkout. This offer is for delivery address in the continental United States and excludes shipments going to Alaska, Hawaii, Military Boxes, and items that require freight shipping.

Processing Time
Patterson Performance stocks a large quantity of items at any given time. Some items may require drop shipping from one of our various distributors. In stock items will ship within 1-2 business days. If you're needing your product quickly, please contact us to verify product availability before placing your order. Orders requiring additional verification (security concerns, incorrect information, etc.) may need additional processing time. Estimated shipping dates are not guaranteed and are subject to change based on inventory levels and manufacturer lead times. Backordered items are shipped immediately once available.
Items ship daily, If the item you ordered is not in stock, a member of our team will contact you via email / phone.
Patterson Performance will only ship to an address that varies from your billing address if payment is made via Paypal or a financing partner.

Patterson Performance ships from multiple warehouses throughout the United States, and sometimes from manufacturers overseas.
You can simply contact us via email / telephone for a live inventory check
P65 WARNING: Cancer and Reproductive Harm

Find more information at www.P65Warnings.ca.gov.