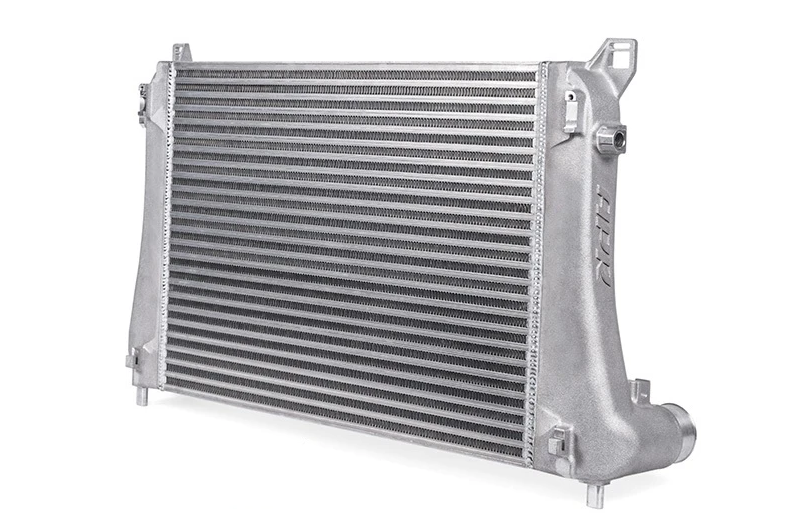 Genuine Parts

Guaranteed Authentic

Modification Specialists

Call for assistance

Mod Now, Pay Later

Financing Available

Save On Delivery

Free shipping on most orders over $199
APR 1.8T/2.0T Intercooler System for MQB Platform Vehicles
Lease for as low as $/week
Learn More
customers are viewing this product
The APR Intercooler System is a OEM-location upgrade that dramatically reduces intake air temperature (IAT), minimizes heat soak, and provides increased performance! The system is a direct bolt-on upgrade that requires no trimming and is recommended at every stage of performance.
FEATURES:
Dramatically lowers intake air temp (IAT)
Increases horsepower while minimizing power-robbing heat soak!
Effectiveness tested to over 500 HP!
21 horsepower gain over the factory system!
Use of the OEM-location allows for a massive intercooler core.
24.25" x 16.25" x 1.25" = 492.5 in³ = OEM GTI
24.25" x 16.25" x 1.37" = 541.8 in³ = OEM Golf R
24.00" x 16.25" x 2.25" = 877.5 in³ = APR
Intercooler installed in the best location for this platform
Utilizes factory air dams for exceptional airflow across the core.
100% compatible with the Adaptive Cruise Control (ACC) system.
Highly effective core design
Bar-and-plate core with staggered and louvered fins.
Rigorous testing determined core style, fin density, and size.
Low pressure drop + highly effective cooling = high performance!
Engineered for low turbulence/restriction and maximum flow.
Organically shaped to promote airflow across entire core.
Pressure tested to prevent power robbing boost leaks.
No hidden labor costs or permanent modifications
No trimming, cutting, or other costly modification required.
No modification to the Adaptive Cruise Control System required.
Full directions and APR world-renowned customer support included.
Designed by engineers with lasers
With the best equipment and smartest engineers, it just works! 
DESIGN:
APR pioneered the OEM-location direct-replacement intercooler system in 2006. Unfortunately, to the untrained eye, many intercooler designs appear the same. However, effectiveness of the system and overall performance are greatly determined by several key metrics. Alloy selection, end tank design, construction type, fin style, fin density and overall core dimensions must be analyzed and balanced accordingly to deliver class-leading performance. While the OEM's goal is to create a lightweight, easy to manufacture and inexpensive to produce, cross-platform design capable of supporting factory power levels, APR's intercooler must be capable of supporting more than double the factory output. Achieving this goal took a multi-step approach focused around intercooler core selection, end tank design and install location.
TESTING:
Back-to-back stress testing on the dyno help to further prove APR's intercooler upgrade's effectiveness compared to the factory unit. Tests were first conducted with an APR Stage 2 MK7 GTI using the factory intercooler, then the slightly upgraded Golf R intercooler and finally APR's Intercooler system. Each dyno pull lasted 12 seconds with 5 seconds of dwell between runs. Raw sensor data was collected using APR's ECU Explorer high resolution datalogging system. The tests quickly proved the long sought after OEM upgraded cooler (factory Golf R intercooler) showed minimal improvement over the standard GTI unit. However, the APR intercooler saw a dramatic difference that made a positive impact on performance. The factory GTI and Golf R intercoolers saw a starting IAT of 43 °C and 42 °C which climbed to as high as 71 °C and 66 °C, respectively, by the end of only the first pull. In contrast, the APR intercooler system saw IAT's drop to 40 °C! The APR system effectively rejected heat soak and by the end of the sixth run saw a final IAT of 49 °C where as both the GTI and Golf R intercoolers struggled to keep up, resulting in a final performance robbing IAT of 84 °C and 82 °C. This translated to a final gain of 21 WHP over the GTI intercooler and 18 WHP over the Golf R Intercooler! FITS:
MK7 VW Golf 1.8T
MK7 VW GTI 2.0T
MK7 VW Golf R
MK7 VW GLI 2.0T
8V Audi A3 1.8T & 2.0T
8V Audi S3 2.0T
Returns Policy
Returns may be accepted within 14 days of purchase pending Return Merchandise Authorization (RMA). No returns or cancellations on special order items. All returns will be charged a 20% restocking fee, no exceptions.

To be eligible for a return, your item must be unused and in the same condition that you received it. It must also be in the original packaging. Item must be able to be resold as new. Several types of goods are exempt from being returned. Hazardous materials, fluids, greases, chemicals, and clothing are not able to return.
Free shipping is available within the lower 48 states for most orders totaling $199 or more. A free shipping option will be available during checkout. This offer is for delivery address in the continental United States and excludes shipments going to Alaska, Hawaii, Military Boxes, and items that require freight shipping.

Processing Time
Patterson Performance stocks a large quantity of items at any given time. Some items may require drop shipping from one of our various distributors. In stock items will ship within 1-2 business days. If you're needing your product quickly, please contact us to verify product availability before placing your order. Orders requiring additional verification (security concerns, incorrect information, etc.) may need additional processing time. Estimated shipping dates are not guaranteed and are subject to change based on inventory levels and manufacturer lead times. Backordered items are shipped immediately once available.
Items ship daily, If the item you ordered is not in stock, a member of our team will contact you via email / phone.
Patterson Performance will only ship to an address that varies from your billing address if payment is made via Paypal or a financing partner.

Patterson Performance ships from multiple warehouses throughout the United States, and sometimes from manufacturers overseas.
You can simply contact us via email / telephone for a live inventory check
P65 WARNING: Cancer and Reproductive Harm

Find more information at www.P65Warnings.ca.gov.